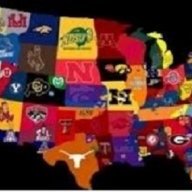 Joined

Jun 10, 2014
Location
Hoopla Cash

$ 891.00
My college basketball thread is back for another season! And in case you forgot how it works, modern-day CBB schedules work in 3 parts:
November-December (We just sit back, watch some fun holiday tourneys, and start to learn what each team has.)
Early January-Mid February (The work portion, where everyone settles in and engage in conference warfare.)
Late February onwards (Only the strong will rise up and make the NCAA's!)

So starting tomorrow, I'll begin Part 1 of the 2019-20 season with Tuesday's slate of games. Oh, and if you want to share your fears about the FBI sniffing around your program, go right ahead!