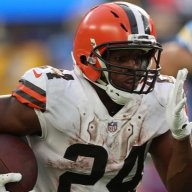 Joined

Oct 18, 2012
Location
Hoopla Cash

$ 73,469.05
He's been very consistent, so I expect him to stay that way. The only real variable is the new offensive scheme, and it's too early to judge so I'll ignore it.

Kind of cheating since we already got to see Stafford soar and Rodgers crumple, but I'd put Mahomes, Brady and Rodgers ahead of him and Murray/Stafford/Lamar/Allen as the guys Wilson is in the mix under that. Murray or Stafford could make a leap into the top tier. But Wilson won't. Brady and Rodgers could both fade and I expect Wilson still wouldn't be top three. Just too much competition.
You're right, Wilson can't jump into the top tier when he is already in the top tier but that really isn't even the best part of your comment.
Lamar in the same class as Wilson?