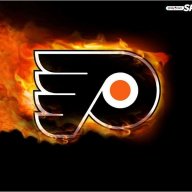 Joined

Jun 28, 2010
Location
Hoopla Cash

$ 900.00
I will add 2 more things.

1. If Ristolainen pans out and the change of scenery works, I think the Flyers will be in extremely good shape. Because if he's a rock solid top 4 guy, their defense is going to be very good. And if their defense is very good, I think Hart will be very good. It's a big if to me, but I love mall's confidence in him.

2. I have to give props to Fletcher. He did a hell of a lot to change the team and didn't give up guys like Konecny or Sanheim. I thought he'd have to for sure to get a 1RD and he didn't. So, props to Fletcher.
If Ristolinen works out and has a very good year he will be gone in free agency and we traded away our first and second next year along with Hagg for a one year rental. So i hope he has a mediocre year this year and turns it up to another level if we resign him after next season.