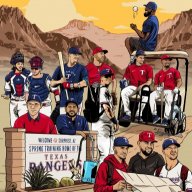 Poster child of the rebuild
I think Woody overdoes it occasionally. Not so much going into a game but during a game, especially once the opposing starter is out.

2022 Major League Baseball PH/HR/Situ Hitting | Baseball-Reference.com

According to this, the Ranges have the second most number of PH at-bats, but are only 23rd as far as "contextual importance" in regards to the nature of the ABs. To me that says that Woody likes swapping guys out more for a small advantage in rather inconsequential game situations, rather than situations that have a significant impact on the game.
This is where the metrics fail because it only goes to past performance to project the future
Sometimes a hot hand needs to be utilized
Managers have to use a bit of wisdom when to and when not to bring in