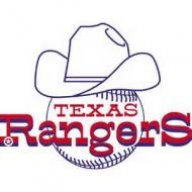 Joined

Jul 31, 2014
Location
Hoopla Cash

$ 1,000.00
Evan answered another question of mine as well.

Should the Rangers need a starting pitcher from the minors what is the pecking order and how long before Allard is a part of that? Arihara, Alexy and who else would be considered and in what order?

Good question, but I don't think it includes the two most important elements that would go into any decisions about calling up a starter. First, it's who is on the 40-man roster. Second, it's how quickly is the starter needed and what's the pitching schedule at Round Rock. The second element creates more of a wild card issue than anything.

But if we're talking mostly merit, I think the "pecking order" would look something like this: Spencer Howard, A.J. Alexy, Kolby Allard (once he's built up a little bit), Jake Latz, Kohei Arihara and Cole Winn. Winn last because he's not on the 40 and you wouldn't want to start his big league service clock for say one or two starts. Now, on the other hand, if you are looking at the unfortunate possibility of long-term injury or a bit later into this season, I think Winn becomes a lot more viable. I think, for now, the most realistic options are Howard and Alexy. Both are on the 40. And maybe I'd pick Alexy first because Howard simply doesn't seem to be built up enough to go five innings. Alexy has 21 Triple-A innings this season; Howard has 6.2 innings, period.

Of course, this also doesn't include the possibility that say the Rangers needed a spot start for one turn with the possibility of then sliding that guy to the bullpen. You might go Allard in that case, ask him to go three innings and then move back to the bullpen. There is no desire, however, to bring Allard back as a full-time starter. While he will start at Round Rock, the Rangers view him best suited to pitch multiple innings in relief in the long term.

Why not Arihara? Simple. He's not on the 40-man roster and compared to the others, just doesn't seem to really have a potential role for the future. That said, he's pitched well at Triple-A this season.