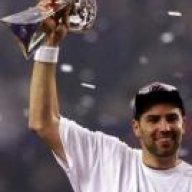 Joined

Jul 3, 2013
Location
Hoopla Cash

$ 1,000.00
I am in a dynasty league that has 10 teams. It is a PPR setup. We start 1 QB, 1 RB, 1 RB/WR, 3 WR, 1 RB/WR/TE, 1 TE, 1 DL, 2 LB, and 1 DB.
Essentially, if you have 3 good RB's you start 3 RB's and 3 WR's, but you have flexibility if you are weak at RB, you have flex options. I was lucky and happened to win last season going from worst to first, therefore I have the last pick in the draft. We draft 10 rounds.
Every team gets to keep 14 players ( no restrictions on what positions ). We are allowed to keep 18 players during the offseason for trade purposes, but have to drop 4 players prior to draft to get down to 14.
The way the league is set up, the rookie RB's typically go early with a WR or two mixed in the 1st round and maybe a rookie QB. I'm sure Kyle Pitts will probably go before my pick as well since everyone is looking for good TE's in this league since you can potentially start 2 during bye weeks, etc.
I expect the top 5 rookie RB's to be gone before my pick ( Harris, Etienne, Carter, Williams, and Sermon ), as well as Chase and Pitts and possibly Lawrence. I am looking for advise for my 1st round pick. The highest rated RB available besides the rookies is Tevin Coleman. The top QB's are Daniel Jones, Cousins, and Goff. The top WR's are Fuller, Kirk and Agholor. There are no TE's worth a 1st round pick outside of Pitts. Here is my roster:
Jalen Hurts
QB-PHI
RB
David Montgomery
RB-CHI
WR
D.J. Chark
WR-JAX
WR
Calvin Ridley
WR-ATL
WR
Robert Woods
WR-LAR
TE
Darren Waller
TE-LV
RW
Clyde Edwards-Helaire
RB-KC
RWT
Chase Edmonds
RB-ARI
QB
Baker Mayfield
QB-CLE
RB
Ronald Jones
RB-TB
RB
Zack Moss
RB-BUF
WR
Darnell Mooney
WR-CHI
WR
Henry Ruggs
WR-LV
TE
Tyler Higbee
TE-LAR
RWT
Malcolm Brown
RB-MIA
Active:
8
Reserve:
7
Chase Young
DL,ER-WAS
LB
Patrick Queen
LB,ER-BAL
ERDBDB
Marlon Humphrey
DB-BAL
Res
I am going to drop Mooney, Ruggs, Queen and Humphrey if I don't make anymore trades. I am keeping Brown just because of the premium on RB's in this league. Going up against teams with 3 good RB's is tough if you have to start a 4th WR or a 2nd TE. LB's are also a premium in the league because you start 2, but don't think I will use my 1st on a LB.
Thoughts?