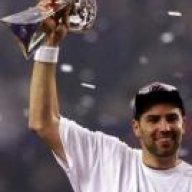 Joined

Jul 3, 2013
Location
Hoopla Cash

$ 1,000.00
Ehhhhh i semi disagree. He has weak spots for sure. But his vision was markedly better. I do think they move on from him. He is limited as a passer, but i think hes adequate when combined with his rushing. To me, its one of the more interesting story lines this year.
Thanks for the input guys.
I am concerned about Hurts and may end up dropping Mayfield because he's not very reliable week to week, so I definitely need to address QB.
It will definitely be an interesting draft as this is a very competitive league and "sleepers" aren't missed as they are in other leagues.