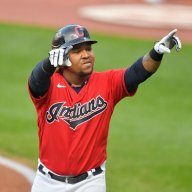 Joined

Jul 17, 2014
Location
Hoopla Cash

$ 14,727.00
Got this idea from a Cowherd segment. Who are your 7 wonders of basketball.

Guideline...they have to have different skillsets. So, for example, if you have MJ, you wouldn't have Kobe because he's MJ Lite.

Kareem - Brought true athleticism to the 5 spot and had the greatest shot in basketball history which has never been duplicated.

Magic - A 6'9" point guard? How is that fair?

Bird - Became the leagues best passer and shooter from the forward spot.

MJ - Arguably the GOAT and definitely the most relentless player ever.

Shaq - 7'0" over 300 lbs and could run the floor like a guard.

Steph - He takes shots that have gotten players benched and makes them....a lot of them.

A.I. - Smallest player to make his mark by attacking the monsters in the key. And it was back when those monsters were allowed to clobber you.
Tristan Thompson
for owning a Kardashian and Whiteside.