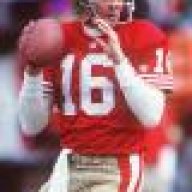 Joined

Aug 10, 2011
Location
Hoopla Cash

$ 1,000.00
I know JG isn't a tier 1 NFL QB, but wasn't willing to give up so much draft capital.
I mean did the Chargers think Drew Brees was one of the greatest QB's of all time when they drafted Rivers?
As good as Rivers was it ended up being a pretty big mistake to let Brees go. I'm not expecting quite that level of turn around from Jimmy G but hopefully competition brings back the Jimmy we saw for 5 games in 2017 because I don't think he's played with that level of confidence and fire since the knee injury he suffered the following year.