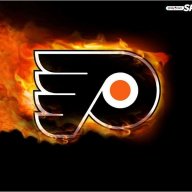 Joined

Jun 28, 2010
Location
Hoopla Cash

$ 900.00
Nothing better than beating the Pens! Don't care one bit that it's an exhibition, I'd be excited the next day if the Flyers beat the Pens in a rock, paper, scissors tournament!

Laughton's goal was slick, but that pass by Konecny was even better I think. What a great way to end it.

Thought Elliot looked particularly locked in. Hayes was a monster, and has been in the team scrimmages as well. Provorov and Niskanen looked great too. Couturier too. For las, JvR was indeed invisible aside from the one break where he just kinda flubbed the puck wide of the net.

I am so excited about this team. Watched some of the Montreal/Toronto game later and just had to laugh at the Habs having Weal and Weise in the lineup. And Weise missed a full on tap-in just to drive it home. It is so nice having enough talented hockey players to fill the lineup without including someone that is just flat out not good enough to be in the NHL.
TK i just love his game,he came out hitting then brought his skill into play. Couts is just a top two way player. Hayes was all over the ice and is a threat to score on the PK every time hes out there. Jake firing away every chance he got was a good sign. I just love the beating the Pens!!
Defense was ok it was mostly team defense keeping the score down. Zamula looked pretty good will be as good as Myers and Sanheim in a season or two.
I cant believe you saw JVR out there i thought he was a healthy scratch.
All is well in the hockey world again.