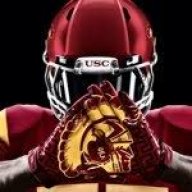 R.I.P. Robotic Dreams. Fight On!
Moderator
Joined

Apr 17, 2013
Location
Hoopla Cash

$ 16,709.00
People are idiots.

Yesterday afternoon I went to the grocery store to get eggs and cream cheese. There was a line to get into the store.

So, I walked up to the employee who was at the door letting people know when they can go in and asked what's going on. She says, the store is at capacity so we can't let everyone in.

I get inside the store and found out that was bullshit. I've been in that store when there were far more people in it. But folks were buying all kinds of bottles water, paper towels and toilet paper. They were trying to prevent fights. lol

This store is usually open 24 hours but they had a sign saying that they were closing from Midnight to 5am to stock their shelves.

So, I went back at a little after 5 this morning to get a couple of things that I forgot and there was already a line and the store wasn't open. There was an employee outside telling people that the store wouldn't be opening until 7 and how limited their supplies were on dry goods and water.

I decided fuck this, I'm not waiting 2 hours for powdered sugar and vanilla extract. I was amazed at how many people just stayed in the line.
So...lol
About 10 minutes after the above post, I decided to go to a different store that opens at 6. I get there, there's a line of people waiting to get in and a sign on the door that says they won't open until 8.
So, head to the Super Walmart expecting to find the same thing as at the first 2 stores. Instead, there's no line and people are coming in and out of the store. So, I go in, get to the baking aisle and find out that they are complete out of every kind of sugar, including powdered.
So, I go back to the first store (which is now open). There's still a line, but it's moving okay. So I get in the line, get into the store and finally got my powdered sugar and vanilla. lol