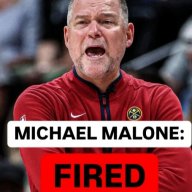 The Middle of Everywhere: NWI
Joined

Apr 18, 2013
Location
Hoopla Cash

$ 1,000.00
1) OKC - They'll run the league soon as Sam Presti is best in the business at stockpiling picks and making the most of them. SGA is a superstar.

2) Pacers - Tyrese Haliburton is as good as it gets for his age at making guys around him better. Would like a more modernized FO, though. Add Dillon Brooks and they'll beat the Nuggets in the 2024 finals.

3) Jazz - So far so good in the Ainge regime. The 2027 Lakers pick ought to be a good one as LeBron will be 43 and likely long gone from the team anyway. Still worth questioning if Ainge regrets making the Lakers better in the short term.

4) Orlando - He didn't have much competition for ROY, but would like to see more efficiency out of Banchero. Still a lot of raw talent on this team to work around.

5) Detroit - Unless they get Wemby their rebuild has been an utter waste of time.