HERE...WE...GO
note:
AFCN fans, let's have some fun with this thread! Key word being fun. Don't take me, or anyone else, to be as serious as someone like Tgann. No meltdowns please.
Bungal fans where you at??? HUGE division game this week. Time to set the tone for who is the king of this division. Sorry Ratturds, that woe-inspiring 6-pt win over the Bills at home will keep them in the short-bus right next to their red-headed step brother Cleveland until they can prove worthy.

As for you Bungholes. Let the hate fill your wounded hearts and let it out. That playoff loss has still gotta sting! Hate shall reign supreme this week as the Pittsburgh Steelers take on the Cincinnati Shit Stains for the first time in this young 2016 season. Should I point out the playoff loss streak (because the drought is all too real)? Last time they won in the postseason was in 1991. To put that into perspective, the last time these man-queefs of the NFL won a playoff game George Bush Sr was president (the one that held crack up on TV, not the one that used it frequently). Yikes. For those of you that don't know, that's the longest active running playoff drought in the NFL. Let's also not forget that this team was created by the guy who the Browns are named after, their first coach and later their founder. They're like a peanut in the lump of sh*t that is Cleveland, and some rancid bird plucked it out and crapped it out a little further south, and out blossomed Shitsinnati.
More to the point... This will be a different defense than the Steelers are used to defecating on. No Burfict or Nelson. New faces for Ben, AB & D-Will to absolutely embarrass, hooray. Bungals are about to walk into one-helluva b*tchslapping festival, and the Steelers' hands are loaded with baby powder. I know you guys hate the Steelers' dancing antics, but the dancefloors are freshly cut and the Bungals can do nothin to stop it. Steelers will proudly take every 15-yd penalty just to see those sweet & delicious tears rolling down your childish faces.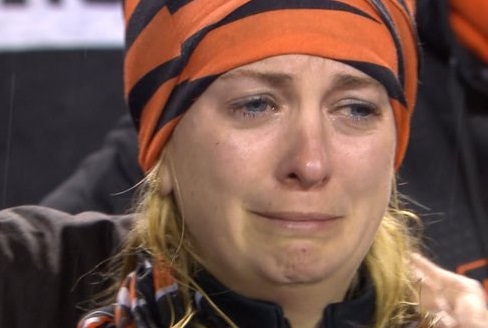 LET THE HATE BEGIN!!!!






AFCN roll call...
@Psych-Ward
@ATL96Steeler
@MISKO
@Ojb81
@Gooch1034
@Ewa PGH Fan
@moxie
@Maximus Rex
@SteelersPride
@Cali Steel
@NorthCoastSteelersFan
@Bridgeburner
@Superbelt
@evolver115
@3riverbabe
@wings-pens2166
@thedddd
@Cincyfan78
@cincygrad
@Tubbs1518
@DanBengalfan
@Kingspoint
@kramer1
@alf8478
@JBUCK66
@AjGreensStickyGloves
@CrashDavisSports
@Oldschool739
@Money
@blue_suns
@RavensNation2158
@MDX
@brandonk989
@Wamu
@Sgt Brutus
@Shanemansj13
@Tharvot