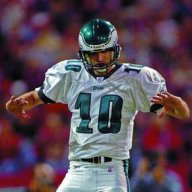 Joined

Jul 21, 2019
Location
Hoopla Cash

$ 500.91
Football Outsiders have the Eagles with the easiest schedule in the league. The Niners had the second easiest. I don't think we should split hairs - Both teams benefited from playing weak teams.
It's not splitting hairs, it's the reality of it. Eagles played more teams with winning records and played in by far the best division in the league while the 49ers played in one of the worst.
Eagles played 6 teams with winning records:
Cowboys 12-5 x2
Vikings 13-5
Giants 9-7-1 x2
Jaguars 9-8
Lions 9-8
Steelers 9-8
Eagles won all of those games except one of the games to Dallas when they had Minshew playing.
49ers played just 4 teams with a winning record.
Chiefs 14-3
Chargers 10-7
Seahawks 9-8 x3
Dolphins 9-8
The only above. 500 team they played that wasn't barely over. 500 was the Chiefs and the Chiefs blew them the fuck out.