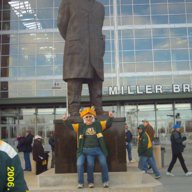 Joined

Jul 26, 2013
Location
Hoopla Cash

$ 751.05
Here is a link for the teams that have been figured out why they suck so far. It appears more teams will be written about as time proceeds!
Why Your Team Sucks 2019 - Sports News Headlines & Highlights | Deadspin
Here is how the Packers will suck:
This will give all the Packer haters things to keep them busy from the thoughts of a Viking fan
Why Your Team Sucks 2019: Green Bay Packers
https://deadspin.com/why-your-team-...YwK-hh5yvD8rKGXsM0T3wC7Y8DOGbPLqSldeOXmQQtNzI
Some people are fans of the Green Bay Packers. But many, many more people are NOT fans of the Green Bay Packers. This 2019 Deadspin NFL team preview is for those in the latter group. Read all the previews so far here.
Your 2018 record:
6-9-1, including a last-second miracle win against … C.J. Beathard. Like watching history unfold right before Joe Tessitore's bugged eyes. The Packers also needed Aaron Rodgers to work his gimpy magic to pull out comeback wins against the Bears and the, uh, Jets. Plus they needed Daniel Carlson to blow a kick to salvage a tie at home against the Vikings, and Carlson merrily obliged them. In other words, 6-9-1 was the best-case final record for a season in which the Packers, in terms of both play and morale, collapsed like a nightclub on fire. They lost to Detroit after Mason Crosby
blew five kicks
. They lost to the Rams after Ty Montgomery
ignored orders to take a knee in the end zone
and subsequently fumbled away another chance for Rodgers to redeem the trash compactor of a roster surrounding him. They didn't bother to make Aaron Jones the No. 1 back until November. They didn't target Davante Adams nearly enough, and Rodgers wasn't shy about voicing his displeasure with that fact. That Week 1 win against the Bears was their only victory against a team with a winning record. They got Rodgers hurt AGAIN.
This is the part where I disclose, as I do every year, that I am a Vikings fan.
And so all of this served as orgasm fuel for yours truly. Yes, my team is a grease dumpster stationed outside a Long John Silver's, but at least the Packers were somehow worse last season. They were exposed, like a beached whale carcass exploding after the noxious gases trapped within its corpus have forced their way out. This was the year that Mike McCarthy's reign of huffy cowardice finally ended.
Tyler Dunne over at Bleacher Report
detailed all of the antiquated practices and petty bullshit that led to his overdue downfall in a story that I have since had tattooed, in full, on my back:
"Mike has a low football IQ, and that used to always bother Aaron," this source says. "He'd say Mike has one of the lowest IQs, if not the lowest IQ, of any coach he's ever had."
You and I have known this ever since McCarthy called his first punt from an opponent's 40, but to finally see it voiced by his own HOF quarterback is so, so gratifying. Like a really good trip to the therapist. It's finally all out there! FEELS GREAT! Let's all remember the massage thing while we're at it:
About once a week, a meeting would start up and McCarthy was MIA... Eventually, word leaked that McCarthy, the one calling plays on game day, was up in his office getting a massage during those meetings.
Lotta surface area to cover for that poor physical therapist. Dunne also reported that longtime GM Ted Thompson used to fall asleep in meetings before he was kicked upstairs prior to last season. Whenever Thompson was awake,
Kalyn Kahler at SI
noted that he would draft horribly, blithely ignore promising trade overtures, and run the team like he was going off of focus group data from the DCCC:
Multiple sources noted the Packers' low tolerance for "loud guys," a general term for players who are outspoken with the media or even those who complain privately about the organization... The term "bad guy" was thrown around amongst team decision makers, a descriptor that could range from a guy with a sordid past, or just a player who talks too much.
Jesus Christ, even the
New York Times
deploys fewer racial euphemisms. As Dunne reported in great detail, Aaron Rodgers actually fits into all of that unwanted criteria. Almost as if the Packers have no fucking idea how to relate to modern players or manage them! Hard to believe, coming from a team whose signature calling card is bicycles at training camp. Sometimes they even cut practice short to take a pontoon boat ride to Eagle River!
Your coach:
It's former Titans assistant Matt LaFleur, whose offense ranked 25th in the league last season. Can't remember the last time the Packers hired an unheralded offensive coordinator who presided over an underwhelming offense elsewhere! NO I CANNOT. LaFleur's own OC will be Nathaniel Hackett, who was just run out of Jacksonville. Let's see how
Rodgers feels
about finally having some fresh blood on the sidelines…
I don't think you want to ask me to turn off 11 years (of recognizing defenses). We have a number of check-with-mes and line-of-scrimmage stuff. It's just the other stuff that really not many people in this league can do. That's not like a humblebrag or anything; that's just a fact. There aren't many people that can do at the line of scrimmage what I've done over the years.
Yeah no, he'll be ignoring LaFleur by October. LaFleur tore his Achilles this offseason, by the way. The Packers can't even keep their stupid
coaches
healthy.
Your quarterback:
This team essentially wasted Aaron Rodgers' prime, and now they're going to spend the next five years pretending that he isn't in decline. Rodgers was wise to treat old Beav's desiccated offensive plans like toilet paper and usurp playcalling duties from the head coach whenever he felt like it. That's your right when you're one of the greatest quarterbacks who has ever lived. But, in every other way, he comes off as a moody and vindictive prick who nurtures grudges like they're his own children, cuts off
family members
if they don't have State Farm as an insurance provider, and freezes out anyone else on offense who doesn't accept his word as law. Here was Rodgers
sniping at Greg Jennings and Jermichael Finley
when they dared to openly question his methods:
It bothers me that every time there's an article, it's the same two people… And if it's not an article about me, do you ever hear their names anywhere else? At what point do you move on? You talk about me being sensitive and petty? At what point do you move on or stop telling the same stories?
Aaron Rodgers is NOT mad. He finds all this even more amusing than hate-watching his brother's old episodes of
The Bachelorette
. Keep in mind that Finley nearly died on the field playing for the Packers, and Rodgers uses the time he visited Finley in the hospital after the fact as proof that Finley is now being disloyal to him:
At what point did J-Mike think I was a bad leader?… It couldn't have been when I was at the hospital the night he broke his neck and spent a couple of hours with him.
I accept that, in order to be a successful NFL quarterback, you have to be insane. Lord knows that Tom Brady is. Scouts spend the entire combine making sure that you're of suitably UNsound mind and thus eternally dedicated to their deadly sport. Dan Marino was a raging prick to his teammates all the time. I get all that. But Aaron Rodgers seems to have no grasp of the fine line between pushing your teammates and alienating them. When everyone else except you is a crazy dickhead, guess who's the
REAL crazy dickhead
?
I love Mike McCarthy. He's a great man. He's got a huge heart. As far as a player to a coach, it's just two Alpha males who are hyper-competitive and love winning and are both a little stubborn.
So true. You hear it. Sometimes one film room isn't enough to hold all that man-itude. If you don't think Rodgers will be pissed forever that he lost a stupid beer-chugging contest to one of his own linemen, well then you're as naïve as the people who cheer for this shitheap of a team: