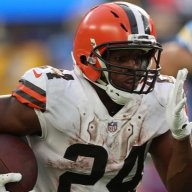 Joined

Oct 18, 2012
Location
Hoopla Cash

$ 14,259.61
He is the argument for greatest defensive tackle of all time, you are a funny troll
He has a long way to go to catch guys like Page, Mean Joe Greene, etc. Randle was one of the best pass rushers we have ever seen at the DT position. Taking AP's alone as well as even DPOY is helping Donald's case but it's not everything. I will say Donald is a more complete player than Randle. He is definitely a menace and I would put him probably just outside the top 5 for DT's of all-time right now but if he keeps it up he can make the top 3 at some point. Saying he is in the argument RIGHT NOW is big time homer.
Page and Greene both had 2 DPOY awards as well. Page had a MVP though too.
Page had close to 150 sacks in his career. Recovered 22 fumbles and played in a crazy 218 straight games, which is just mind-boggling tbh.
Lets hold the brakes on best DT ever at this point...he's only played 6 seasons LOL. If we are talking best season for a DT ever...then we have something to talk about. I think Donald had the best season ever at the position in 2018 but the position has evolved over time.