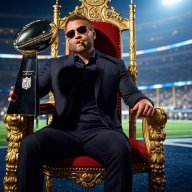 Joined

Aug 24, 2014
Location
Hoopla Cash

$ 118.00
PFF50: The NFL's 50 best players entering the 2020 season | NFL News, Rankings and Statistics | PFF
1. DI AARON DONALD, LOS ANGELES RAMS
No matter how good you think Aaron Donald is, you're underselling it. He is the best player in the NFL by a distance, and only the fact that his position doesn't impact a game as heavily as quarterback or even receiver makes that in any way a debate. Since entering the league, Donald owns the best pressure rate, the best pass-rush win rate (factoring in wins at the line that don't result in pressures), the best PFF pass-rushing grade and the most total pressures. He has done all this from an interior alignment on the defensive line, where pressure is harder to come by than on the edge. The gap between Donald and the next-best interior player is bigger than it is between any other player and the rest of his peers, and he remains atop this list for the fourth-straight year.
2. QB PATRICK MAHOMES, KANSAS CITY CHIEFS
If there's a player who has a hope of rivaling Donald as the best in the league regardless of position, it's likely Mahomes. What we're seeing from the young quarterback has never been done before — not necessarily statistically, but stylistically. His feel for the game and ability to make special plays as a passer is absurd. Since Mahomes entered the league, his PFF passing grade on third-and-long alone is 91.4, and his passer rating is 125.3 — comfortably the best in the league. Nobody can do what Mahomes can right now, and 2020 should bring about an even better version than last year if he stays healthy.
3. WR JULIO JONES, ATLANTA FALCONS
Julio Jones is the most productive pass-catcher in football at a time when that skill has never been more valuable. Over the past three seasons, Jones leads all receivers in yards per route run, a statistic he led the NFL in for four straight years. Over almost any time span you choose, he is the league's leader in receiving yards gained and has now had five straight years with a PFF grade above 90.0, with the three seasons preceding those above 80.0. Jones is the best receiver in the NFL, and he climbs further up the all-time lists with each passing season.
4. G QUENTON NELSON, INDIANAPOLIS COLTS
Quenton Nelson is the rare player who brings everybody together. Whether you study tape exclusively, data exclusively, dots exclusively or any combination thereof, everybody agrees Nelson is a superstar. In just his second season in the league, he earned a 91.2 overall PFF grade, didn't surrender a sack and was a dominant force as a run-blocker. Nelson was a bona fide star early in his college career, and there's a good chance he could get even better in 2020 and beyond.
5. TE GEORGE KITTLE, SAN FRANCISCO 49ERS
Over the past decade, five of the top seven single-season PFF grades at tight end belong to
Rob Gronkowski
, but the grade George Kittle racked up last season tops any of them. Kittle, like Gronk, is an elite receiver at the position while also a rare blocker who becomes a matchup problem because he can dominate smaller players in that facet just as easily as he can win in the passing game. Last season was his first truly dominant year, but it was so good that it's tough not to rank him this highly based on what the future could hold.
6. WR MICHAEL THOMAS, NEW ORLEANS SAINTS
Michael Thomas sometimes gets dismissed as a top receiver because he doesn't get deployed or utilized the same way some of the other top players do, but that
shouldn't detract from his dominance
. Since Thomas entered the league, nobody else comes close to the number of first-down catches he has, and only
Julio Jones
has generated more yards per route run. Thomas is the NFL's ultimate chain-mover, and even though teams know exactly what he's going to do, almost none come close to stopping him.
7. QB RUSSELL WILSON, SEATTLE SEAHAWKS
Russell Wilson made it only to
No. 33 in PFF's All-Decade 101
list, but he has taken his game to another level over the past couple of seasons. In 2019, it was Wilson — not
Lamar Jackson
— who led all players in
PFF WAR
(wins above replacement) and had the second-best overall PFF grade. Over the past three years, Wilson has 27 more big-time throws (PFF's highest-graded passes) than any other passer, while 12 quarterbacks have more turnover-worthy plays than him. Wilson is held back only by how little his own team puts the ball in his hands.
8. QB LAMAR JACKSON, BALTIMORE RAVENS
Though Russell Wilson had a higher PFF WAR figure than Lamar Jackson in 2019, Jackson was a very worthy NFL MVP. He is a unique talent who gives defenses nightmares as they work to contain both his passing threat and rushing ability, and he is the cornerstone that allows the Ravens to build a custom offense tailored to his talents. Jackson may well reinvent the quarterback position and, at the very minimum, will be one of the hardest players to limit as long as he continues to play at this level.
9. WR DEANDRE HOPKINS, ARIZONA CARDINALS
What DeAndre Hopkins has been able to do in his NFL career with the quarterbacks he's worked with, outside of
Deshaun Watson
, has been remarkable. He should be able to maintain strong quarterback play heading into 2020 with a new team and
Kyler Murray
under center. Over the past three years, no receiver has a higher PFF receiving grade than Hopkins' 93.7 mark, and he has the fourth-most contested catches — all while dropping just 11 passes on 469 targets.
10. RB CHRISTIAN MCCAFFREY, CAROLINA PANTHERS
Christian McCaffrey is the perfect running back for today's NFL. One of the few players with the skills to line up as a wide receiver but also repeatedly carry the ball between the tackles, he has been the Panthers' offense for the past couple of seasons. In 2019, he touched the ball 403 times from scrimmage, racking up over 2,000 yards and breaking 65 tackles along the way. It marked the second consecutive year he had more than 100 receptions, and his 116 catches were the most by a running back in NFL history.