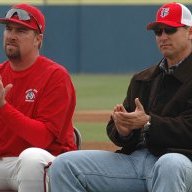 Joined

Aug 1, 2015
Location
Hoopla Cash

$ 1,000.00
Retired as well.... minor change in income but nothing life changing. We were in iIndia/Bhutan 10 days prior to the lockdown in SF and feel fortunate to have made it home.

Wife sits on a few boards and they are struggling (2 in food service and 1 non-profit health care).

Strange living in SF and being confined to an apt. 1st time since we relocated here that I miss our rural place with bbq, decks, acreage, workshop, home exercise stuff.... We get out daily for walks or bike rides (no cars to speak of, so we are getting to areas we normally don't visit). Reading, music, and organizing/editing about 15yrs of photos fills the day.

Decided to go in for some elective hernia surgery, good time as we're not going anywhere. Golf courses have reopened and that provides a little recovery motivation.

Walked by the ballpark last week and construction has restarted on the outfield bullpens. Grass looks great.

Not sure how we get out of this, but I fully expect this is the way it'll be for quite a while.

Take care stay safe ---

Thank God for Korean baseball!
Being stuck at home stinks. I've started doing some jogging/walking (who am I kidding, mainly walking) to get out of the house. I'm surprised that elective surgery was being allowed now. I thought that all elective procedures were being delayed. Glad you were able to get that done.
Hopefully, there will be some baseball this year but doesn't sound like any of us will be able to attend any games.