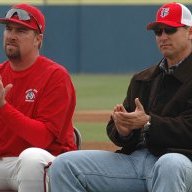 Joined

Aug 1, 2015
Location
Hoopla Cash

$ 1,000.00
Its been a few weeks since I've visited this site. The near standstill of any baseball related news has caused a "new normal" for me. I've tried to check out other parts of this forum but I just cannot get into the discussions outside of Giants' baseball. I saw the draft update, came here and thought I'd ask how everyone is doing with this craziness.
For me, my three children, my wife and I are all home all day, every day. I think us be so close for so long is making everyone a bit stir crazy. Both my wife and I are still employed, for now. She works a lot with small businesses so her income could dry up soon. My job just announced that 20 to 40 people will be laid off by the end of the month (on top of possible furloughs) but we don't know who will get laid off. The company only has about 300 full time employees so the lay offs are going to be significant.
On top of that, one of our two cars started having issues. I was doing the weekly grocery run in my 2005 PT Cruiser (not my favorite car but it was gifted in 2007 and has lasted a long time) when it suddenly decided to not accelerate. Fortunately, we have another vehicle that still runs and are not in need of two vehicles right now. But we'll have a decision to make in the future.
Some better news is that my wife has had some nodules growing around her thyroid and there was concern that she could have cancer. However, after taking biopsies on all the nodules, she came back clean on the tests. Thanking God for that news!
With that said, I'm grateful that I still have a job, a place to live and food. I know that a lot of people are in worse situations than us. How is everyone else doing?
@tzill
@1phlapdown
@calsnowskier
@jeep99tj
@SF11704
@Mays-Fan
@Hangman
@MarcoPolo
@Sandisfan
@filosofy29
@Giantsmojo
@Stokes1931
@msgkings322
@GiantsPackersChamps2011
@SFGRTB
@pachyderm