NFL Exec Shades Bryce Young: Panthers' 'Best Chance to Win Might Be' Andy Dalton​
Timothy Rapp
November 13, 2023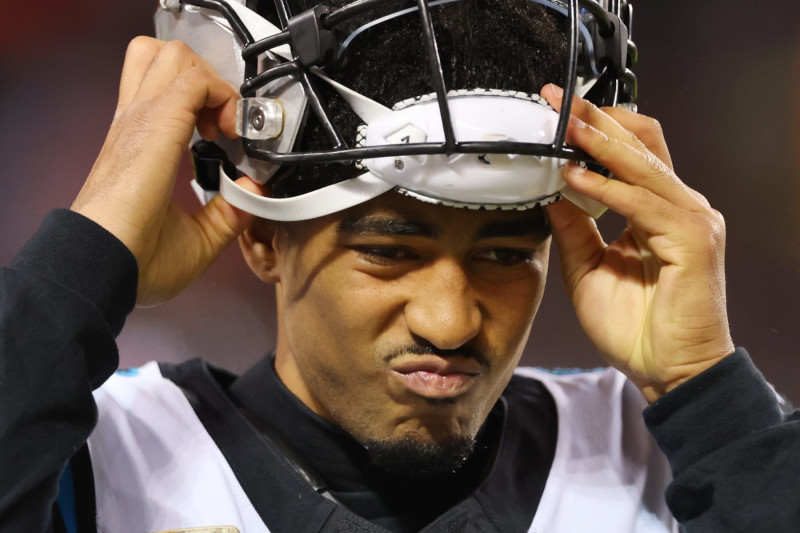 Michael Reaves/Getty Images
There probably isn't a light at the end of the tunnel for the Carolina Panthers in 2023.
The team has limped to an NFL-worst 1-8 record, there's little benefit in tanking given that the Chicago Bears own their first-round pick in 2024 and rookie quarterback Bryce Young has struggled immensely.
"Where does it get better for Carolina?" an executive asked The Athletic's
Mike Sando
. "They made the move at coordinator. They had their bye, and they got their one win. Who are they beating? Carolina's best chance to win might be if the Red Rocket (Andy Dalton) gets back in there. I'll give them two wins on the season."
00:08 / 00:30
Granted, there's little long-term benefit in starting Dalton over Young, which would take away valuable experience from the young quarterback. The only way such a benching would make sense is if the Panthers decide that trotting out Young is exposing him to dangerous hits behind a porous offensive line and contributing to him developing bad habits that would prove detrimental to his long-term development.
It hasn't been pretty. Young, 22, has thrown for 1,560 yards, eight touchdowns and seven interceptions in eight games, completing 62.8 percent of his passes while taking 29 sacks. The Panthers haven't exactly surrounded him with talent, but Young has undeniably struggled thus far.
To make matters worse, the No. 2 overall pick, C.J. Stroud, is absolutely thriving (2,626 yards, 15 touchdowns, two interceptions) for the 5-4 Houston Texans. He potentially could lead his young team to a playoff appearance in his first season.