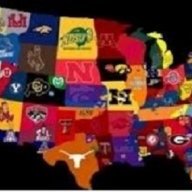 Joined

Jun 10, 2014
Location
Hoopla Cash

$ 891.00
Stanford

Preview segment: The Stanford Cardinal

Last season: By winning close game after close game, Stanford was able to get a 4-2 record out of the 2020 season. Now David Shaw is hoping that his team can continue to claw back into PAC-12 contention... even with some holes to fill.

Bad news: I didn't know that QB David Mills was good enough to be a 3rd-round NFL Draft choice! Well, he's gone, and Stanford could take a while to nail down his replacement at QB. The defense will be missing it's leading tackler, it's top pass rusher, and top defensive back from last year's squad.

Good news: Thankfully, the defense still has it's fair share of experience. The offense should be able to help out it's new starting QB with a strong run game and talent at WR.

Key games:
9/4 vs. Kansas State [in Arlington, TX] (I honestly don't know what'll happen in this big neutral-site game, but it's a contest where Stanford needs the win.)
9/11 @ USC (See my USC preview.)
9/25 vs. UCLA (Oh! I just realized that Stanford only played one home game all of last season! It should be a joyous [and tense] atmosphere when Cardinal Stadium opens up for this big home opener.)
10/30 vs. Washington (If the Stanford defense does it's job, they can trip up the Huskies before they host Oregon.)
11/20 vs. California (And then, Stanford will finish up the season in a familiar place: Playing the hated Golden Bears...)
11/27 vs. Notre Dame (...and the hated Fighting Irish in consecutive weeks.)

Bottom line: With the QB position a total mystery and the defense replacing a lot of production from last year, Stanford is a year away from returning to their status as a PAC-12 contender. But most of their big games this year are at home, so don't count them out either.