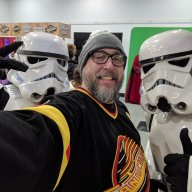 Joined

May 9, 2010
Location
Hoopla Cash

$ 1,000.00
I get where you are coming from and as a coach of high school hockey and having a son who played high school hockey I think what he did is far more prevalent than people think. My son told me that in his high school group text he saw pictures of other players girlfriends'. On my team we sat a kid for 3 games for just talking about a female teammate inappropriately.

But there are three major issues here that make this one of the dumbest things any GM has done, in like ever.
1) The kid shows remorse, but I think it's more that he got caught. Would he "stand up" like this if there wasn't any punishment from authorities? Doing the right thing in the absence of any other option and doing the right thing because it's the right thing are totally different.

2) The league has a problem with this kind of behavior. Brandon Leipsic, Patrick Kane, Slava Voynov are all stories that got out. The league wants to be inclusive of all fans, and half of all hockey fans are women. To reward this by making him a first round selection is disgusting. I am all for second chances (with a very big hammer if they fuck it up), but this is just wrong.

3) Marc Bergevin was in the Blackhawks front office during the time one of their players was allegedly being r*ped by a coach. The evidence points to everyone knowing and looking past it, even bringing fallout down on the victim which is part of the culture problem in hockey (and other sports too, I get that *cough*Gym Jordan*cough*). It's been there for a long time. Going back to Graham James in Junior and everything that Theo Fleury went through. So for a guy who was at best stupid and not paying attention to at worst looking the other way to essentially say "I don't think this particular form of sexual assault is so bad" is intensely tone deaf and probably just made a big portion of the case against Chicago.

Bergevin should be fired, and this kid should get a 20+ game ban to start his NHL career. Someone has to be the face of it. Someone has to be the point where the league says "enough".
This is excellent. Only thing I would counter is not 20+.. I would give home an entire year from any league and then review..
I would also punish the Canadiens on top of Bergevin. I can't believe they did this ...