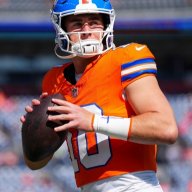 Archduke of Crosstown Busses
Joined

Apr 19, 2013
Location
Hoopla Cash

$ 5,183.61
Brett Rypien threw 4 ints in his one NFL start. We don't know enough about Rypien to know if he sees ghosts but 3 of those 4 ints sure looked like he saw ghosts. Can he play in the NFL? Sure... Do I want him if I have him sitting next to a Sam Darnold option? Uhhhh. Nooo! Am I 100% set on Sam Darnold? No! If our best option out there is Darnols bring him in. Rypien on the roster really have and impact on bringing in Darnold. If Rypien out does him in camp, ok cool. But unlikely. That being said I really only want Darnold for the right price and I would honestly rather roll with Lock at that stage.
An undrafted QB going out and throwing 3 INTs in his first ever start against an NFL defense isn't the worst thing ever. It's certainly not something you want to see from your QB, but it's hardly alarming. But despite his physical limitations, he's managed to complete more than 67 percent of the passes he's thrown in limited action. Meanwhile Darnold is sub-60%. You can't keep a starting job in today's NFL if you can't complete at least 60%.
Rypien has more going on between the ears, and that's something a team can actually build on.