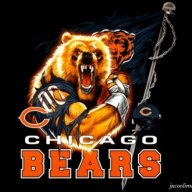 Friendship ended with Mitch. Justin is new friend.
He's not done. Despite his less-than-stellar performance up to now, he's known for working hard and being humble. He'll get a chance to compete with Foles and will get the job if he performs better. The coaching staff has no reason to completely give up on him. They'd like nothing more than to see him figure it out and pilot this offense toward superbowl contention. You can argue that they've gone about it the wrong way, simply handing him the job with no competition. They've remedied that now.

Maybe real competition from Foles will cause something in Mitch to click. Maybe not. I won't hold my breath that it will: it seems like Mitch just doesn't have the ability to see the field like he needs to but you never know.

Still, if Mitch indeed sucks and/or Foles is indeed better than Mitch, he'll get the job. Pace and Nagy now have more pressure on them to win rather than make Trubisky into a franchise QB so i have no doubt whatsoever that they'll give the job to the better player.
That little viewpoint you slide in there is true, but also leads me to this conclusion about Mitch: