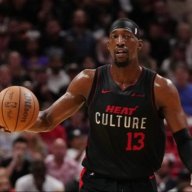 Joined

Apr 16, 2013
Location
Hoopla Cash

$ 109,565.00
Cornerback Keenan Lewis created his own no-fly zone during one set of team drills Monday, rejecting passes intended for Marques Colston, Andy Tanner and Joe Morgan (the last two on back-to-back plays). As I've written many times, Lewis should have been a Pro Bowler last year and was as important as anyone to the Saints' defensive revival. So far, he looks primed for a repeat. … Overall, it was a good day for the secondary, with Pierre Warren diving for an interception and Kenny Vaccaro and Patrick Robinson also providing highlights.
The offensive highlight was a long run by tailback Khiry Robinson that included a sweet cutback – a play that coach Sean Payton later singled out. But just as impressive for Robinson was a terrific blitz pickup when he had to absorb a big impact from Vaccaro. Robinson said that's one element of his game he's really trying to improve in his second NFL season, which he called "night and day" compared to his rookie year out of West Texas A&M. … Saints offensive tackle Zach Strief said as Robinson continues to add knowledge and confidence to his impressive ability, "You are kind of unleashing a lot of potential there."
It was another physical practice in full pads Monday. The offensive line definitely got the better of the defense in early 9-on-7 run drills, though Strief admitted they're at an advantage when the defense doesn't have any safeties to help fill gaps. "There is good competition there. I tried to give (defensive end Akiem) Hicks a high-five after the period, and he told me no. There is definitely competitiveness, and that is part of training camp." … Strief had another strong performance in one-on-one pass-rush drills. Others who stood out in that drill included center Jonathan Goodwin, defensive end Glenn Foster and outside linebacker Keyunta Dawson.
The Saints turned up the volume on Monday's practice, blasting some music through the stretching period and a few drills – something they started doing before the playoffs last year when they mixed up the daily routine (along with the new Gatorade flavors and sweatsuits). It wasn't just for entertainment purposes. Payton said it also helps players learn to focus through the noise.
Guard Ben Grubbs (undisclosed injury) and receiver Robert Meachem (back) remained sidelined Monday. Payton said both should be back within a day or so but declined to offer any specifics on the injuries. Safety Jairus Byrd, defensive tackle John Jenkins, receiver Kenny Stills and offensive tackle Tavon Rooks also remained sidelined.
New Orleans Saints Camp Report: Day 4 - ESPN