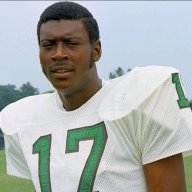 Hangin' With The Homeboys
Howie has usually had a better track record trading up than down. Given his history drafting, I'd almost rather see him use some of those picks (now hat he has ammo to do it) and get one of the top guys... I've seen this trend in previous drafts, a position is labelled deep, you need players from that group and if you get too cute you don't end up with anyone good. Remember 2014? Deep WR class and we ended up with Jordan Matthews and Josh Huff. That CANNOT happen again.

The sweet spot to me is 10. New GM in Cleveland who was in the Eagles' building, there's some history there to work a deal. As a reference, when we moved from 24 to 13 in '10 to get Brandon Graham, it cost us 2 3rd rounders. So it's going to cost us that and maybe one of our 4th rounders.

Lamb and Jeudy have star written all over them, lets not mess around and get one of the elite this draft has to offer at a position that we need desperately. If the draft is as deep at WR as everyone says it is, we can get a good one in the middle rounds (we will still have picks, I don't see a move up like this costing us our entire draft) that can still be a productive contributor.