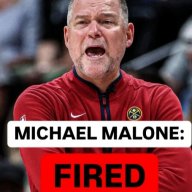 The Middle of Everywhere: NWI
Joined

Apr 18, 2013
Location
Hoopla Cash

$ 1,000.00
Mine:

1) Nuggets - They get this spot by default even though they won't win. (Malone needs to evolve as a coach if they're ever going to win a title.)

2) Suns - Got screwed in 2007 by Donaghy and the NBA needs to right its wrong. Arguably the most successful NBA franchise without a title.

3) Celtics - Would be nice to see them reclaim their rightful place as the team with the most titles after that bubble BS.

4) Pelicans - CJ McCollum is lowkey becoming one of my favorite players.

5) Bucks - I don't expect them to win again, but a no drama organization that goes about the game the right way.

6) Timberwolves - A long suffering franchise and a suffering region as well after the tragedies of George Floyd and Dante Wright.

7) Grizzlies - Ja Morant resembles much that I right with the NBA, but he has time on his side.

8) Jazz - The Mitchell narrative, while relatively new, will become a black cloud at some point.

9) Raptors - An intriguing young team that has a recent title.

10) Hawks - Kind of indifferent on them, but Nate McMillan is an easy guy to root for. Need someone other than Trae to live up to their potential.

11) Bulls - My local team. I kind of enjoyed being able to root for the better run organization of my region. The Bulls winning another title would instantly take that away from me, likely forever.

12) Mavericks - The Luka hype can be annoying at times.

13) Nets - KD was recently quoted as saying he "is basketball". Case and point.

14) 76ers - Embiid is every bit as talented as he is insufferable.

15) Heat - The most lucky and spoiled franchise in the history of sports, Jimmy Butler makes them even more unlikable.

16) Warriors - Draymond by himself earns them this spot.