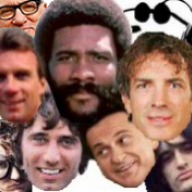 You've pulled one of the classic blunders.
8 Early Busts (2020 Fantasy Football)
Fantasy Pros
provided 8 of their early busts for the 2020 season.
Now its your turn.
How
about commenting on at least 1 player from each position.
Or you can rip me for my picks.

Disclaimer

:

these guys below may be easy targets. Some feel they're ranked too high to actually "bust." But based on their ECR, that may be a tall order to finish that high. (I might change it up later.)

QB - Dak Prescott

Currently the consensus #3 QB off the board.

I doubt he finishes in the top 3.

He may not lose you any fantasy games but his numbers are not elite. Best to wait on a QB.

RB - Kenyan Drake

Currently the #11 RB being drafted.

I just dont trust this guy.

He put up decent numbers as a compliment RB in Miami. Then he got the starting nod and it went more south than Miami is located. Gore ended up with better numbers that season. I see a repeat in Zona. The argument might be that David Johnson was banged up and not 100%, but neither was Ajayi while Drake was in Miami. The starting role seems to be a curse for Drake.

WR - Chris Godwin/Mike Evans (tie)

Their ECR is 6 and 8 respectively. I know everyone is excited in "

Tompa

". But with all of the mouths to feed in that offense,

I just dont see a 40+ QB supporting two top-10 WR,

even if he is destined for Canton. As great as the Pats dynasty had been, only 1 time in Brady's tenure did he have two top-10 WR. (Moss & Welker back in 2009 - 11 seasons ago.) One of them may do well out of Godwin and Evans? Or neither.

TE - Austin Hooper

I dont put much value in any TE. Hooper is coming off a good 2019 campaign that was rewarded with a decent off-season free agent contract. He is currently the 11th TE to be drafted. No great risk. But unfortunately

he landed in Cleveland

. I will find it hard to commit to any player there. I feel your pain, Browns fans. But I wont share in it.
Last edited: