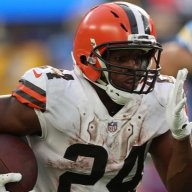 Joined

Oct 18, 2012
Location
Hoopla Cash

$ 6,440.54
I used to play madden all the time. I havent in like ten years. How hard is this gonna be to learn to pick it up again.

worth just buying madden 22 or whatever?
A little more complicated but if you are just playing for fun you shouldn't have any problems. Franchise mode is very deep now, I enjoy it. Only been playing for a couple days so far after not playing Madden for 4-5 years so I'm in the same boat. Already winning on All-Pro but I always enjoyed and thrived at football games.