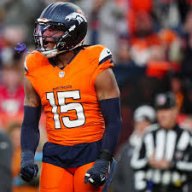 Joined

Aug 6, 2015
Location
Hoopla Cash

$ 1,000.00
PATRICK SURTAIN II | Alabama 6020 | 208 lbs. | JR. Plantation, Fla. (American Heritage) 4/14/2000 (age 21.04) BACKGROUND: Patrick Surtain II (sir-TAN), who is the oldest of three children, grew up in Plantation (suburb west of Fort Lauderdale) and was introduced to football
at a young age as the son of an NFL Pro Bowler. He starred in multiple sports at the youth level like basketball and track, but he excelled in football. He enrolled at [209]
#2

American Heritage School, a private K-through-12 school where his father was the defensive coordinator (2013-15) and head football coach (2016-present). Surtain was teammates with several future FBS-level players at Heritage like CB Tyson Campbell (Georgia), CB Marco Wilson (Florida), WR Anthony Schwartz (Auburn) and DL Tedarrell Slaton (Florida). He helped lead Heritage to back-to-back 5A state championships and a 27-game winning streak his junior and senior years. Despite not seeing many targets, Surtain combined for three interceptions over his final two seasons at the prep level, earning all-county honors both years and All-American status as a senior. He also ran track and was part of the nation's top 4x100 relay team (with Campbell, Schwartz and Miles Jones), running a 40.81. Surtain also set personal-bests in the 100 meters (10.77) and 200 meters (22.14).
A five-star cornerback recruit out of high school, Surtain was the No. 1 ranked cornerback in the 2018 class, the No. 2 recruit in the state of Florida (behind Clemson DL Xavier Thomas) and the No. 6 recruit overall. He received scholarship offers from every major program in the country and narrowed his college choice to Alabama, Clemson, LSU and Miami. Growing up an LSU fan, many expected Surtain to choose the Tigers, but he opted for Nick Saban and Alabama. His father (Patrick) was a second-round pick (No. 44 overall) in the 1998 NFL Draft and played 11 seasons, making three Pro Bowls. He played for the Miami Dolphins (1998-2004) and Kansas City Chiefs (2005-08) and, ironically, Saban was the Dolphins' head coach when Surtain Sr. was traded to the Chiefs in 2005. Surtain Sr. started coaching at American Heritage under Chris Rumph (currently the defensive line coach for the Chicago Bears) in 2011 before being promoted to defensive coordinator in 2013 and head coach in 2016. Surtain elected to skip his final season of eligibility and enter the 2021 NFL Draft.

STRENGTHS: Tall, long frame with athletic feet and body range...technically-focused approach and never panics...outstanding pattern match from press due to calm footwork in his stance and transition...uses a patient, coordinated stab to jam at the line of scrimmage...naturally instinctive and makes adjustments...returns his eyes to the backfield to find the football...uses angles and body position to cut off routes...holds a master's degree in subtle physicality, keeping receivers off-balance without collecting penalties...alert vs. the run, using his length to work off cornerback blocks and make plays in the flat...hasty drive quickness and steady open-field tackling skills...averaged 17.3 yards per interception return (4/69/1) with one pick-six...played both outside and inside in nickel at Alabama...experienced on special teams coverages...humble personality with mature football character...NFL bloodlines...durable and played in every game the last three seasons, including 38 straight starts...knack for poking the ball out (four forced fumbles)...consistent ball production with 31 career passes defended.
WEAKNESSES: Long strider with quick feet, but not a sudden, twitchy mover (elected not to run the shuttles at his pro day for a reason)...lack of explosive speed lowers his margin for error in coverage...doesn't have the juice to easily recover if he loses early...very competitive, but only average play strength (late getting off wide receiver blocks) and finishing strength (ball carriers will carry him a few extra yards)...loves to backfield peek, leaving him susceptible to pumps and play fakes...doesn't have the burst to be a dynamic blitzer from the boundary.
SUMMARY: A three-year starter at Alabama, Surtain lined up at right cornerback in head coach Nick Saban's man-heavy scheme, playing mostly press-man and off- man while also seeing reps at the "Star" nickel position. As the son of a Pro Bowl cornerback and coach, he was groomed to play defensive back at a high level and didn't shrink in the SEC, allowing only four touchdowns and 46.1% completions in 41 career games. With his movements, body range and ball skills, Surtain plays sticky coverage and doesn't panic downfield, consistently staying balanced and in phase. While he is athletic and false steps are infrequent, he lacks suddenness in his movements, giving explosive receivers a chance to separate early. Overall, Surtain lacks elite play strength and twitch for the position, but he is smooth, instinctive and the game happens slower for him than most cornerbacks. He projects as an NFL starting-level press-man corner with Pro Bowl potential.