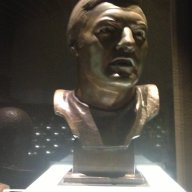 US ARMY retired /mod.
Supporting Member Level 3
Joined

Aug 7, 2011
Location
Hoopla Cash

$ 4,000.00
i am making this post mostly for guys we have neglected or forgot about that could make some surprising charges

lets get our top draft picks out of the way . 2 can start cosmi and brown and one St Juste will contribute . bates will be in the mix for PT

Forrest , i think he will start out on ST's but he could compete for snaps in the buffalo nickel packages

WBK , de he has the motor but we have 3 young guys competing for BU snaps . smith williams did well last yr in limited action and toohill was a guy RR likes and wanted to draft . shaka khan can play both LB and DE . i think wbk ends up on the PS while toohil gets his shot to sink or swim

charles i think he will either take over at RG next season or either tackle ( RT? ) . he just has to stay healthy

AGG he has to produce and stay healthy . his practice habits need improvement, however he has size and hands and he needs to get separation or win most contested catches . he could be on the PS if harmon shows he is healthy

harmon , he played 16 games , started 8 , caught 30 balls for 365 yds and 12 yds per catch . that shouldnt be dismissed nor should his contested catch rate and his hands . he also can play all 3 wr spots . i think he is better then sims and he has proven more then AGG . the issue is the injury ( can he stay healthy ) and he wasnt picked by RR . PS eligibility could factor in as well

hudson LB he should be a contender for the buffalo nickle position. he played well on ST/s last year and then one start he had he handled himself well Curl will get buffalo nickle and slot time and forrest could as well but hudson has a chance to take that job . if he does then he has a role next year if not with our shaky LB depth situation he could be in for a rough ride

kieth ismael OG/ center didnt play but an offseason should help . it will be interesting to see what he does in PS games . an opening at RG could be had in 2022if he shows he can handle it

dax milne wr known for great hands and route running . if he could return punts he would strengthen his chances . right now its hard to see him beating out humphries so i think he has a chance to go to the PS and learn his craft . perhaps in 22/23 he can stake a claim

jarret patterson rb , if he can block he has a real shot at making the team and beating out barber for the RB3 slot . if he isnt ready i see PS with 22/23 being a chance for him

reaves FS this guy is well schooled and when put in as starter he played very well . he should make the team and can push to be the starter if he has the required range

reyes TE , he isnt ready as a blocker and route runner and other nuances of the game . PS for him and maybe in 23 he pans out

stroman CB has to make it as a PR and be able to hold up in coverage , otherwise he is cut

isaiah wright wr good find for us last season 27 catches for 197 yds . but we have really improved at WR . he had 4 punt returns for a 3.8 yd avg and a muff so the only way he doesnt get cut is to show big on KO/PR . as a UDRFA he did well by us

steven sims aka clifford franklin as a UDRFA he has done well for us 61 rec, 5tds 575 yds in 2 yrs . cant ask for more then that usually. he has a pedestrian 6.2 career avg on punt returns but its the muffs 3 in 30 career returns that has him in jeopardy . there is no way he can make this team without being the PR/KR . he has a 91 yd KOR for TD and a 65 yd TD run so he can make big plays but he cant make the team dropping passes and muffing punts . i think he is going to be cut unless he makes big things happen on ST's

cam sims he looks like a solid 4-6 wr and has the height we need . again another UDRFA who has produced for us much more then you usually get . 34 career rec . 504 yds 14.8 avg . he has a career 2.1 drop percentage for the "drop ' crowd . AGG has to beat out guys like these UDFRA's who have produced on the field as well as 6th rounder harmon who has produced . AGG has potential and some skills if he works hard but cam has proven production and work ethic

monrez qb . hasnt had a chance to show much but he does play other positions . he will be a practice squad guy untill we see what he does in preseason games not sure i see kyle allen taking a lot of snaps game 1 of preseason at this time subject to change

to me these are the guys i will be looking at when TC and preseason games come into play . . i also will be interesting on how the coaching staffs use preseason games will it be a cameo in game 1 followed by the dress rehearsal game in game 2 and the BU game in game 3 ? or will it be something else ?