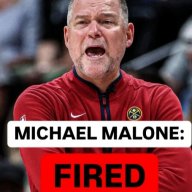 The Middle of Everywhere: NWI
Joined

Apr 18, 2013
Location
Hoopla Cash

$ 1,000.00
That would be me...
HurricaneDij's Too-Early 2021 NBA Western Conference Playoff Predictons
I also said this before Game 6 when just about everyone and their mother was loving the Clippers to even the series:
The Suns haven't played their best game yet this series. I just have a feeling it happens tonight.
As a bonus, I also want that imbecile Sam Quinn of CBS to look like the ass that he is if in fact the Clippers lose…
Series Thread: - Western Conference Finals: 4) L.A. Clippers (without Kawhi Leonard) vs. 2) Phoenix Suns (without Chris Paul)
And what do you know?

The Suns drop 130 that night.
Have a nice 4th everyone.