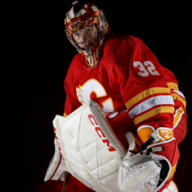 Please don't take Ivermectin
Joined

Apr 19, 2010
Location
Hoopla Cash

$ 306.82
While the NHL is enjoying the benefits of the new Canadian television deal, the same cannot be said for the people writing those big cheques. The word out of Rogers Communications Inc., is that the board of directors has everyone below them sweating to wring every cent of revenue out of the NHL broadcast rights on every platform the company owns or controls.

There is much fear the company overpaid for the deal, as the Rogers-BCE Inc., consortium did several years ago for the Olympic rights and wasn't able to turn a profit. Cost-cutting is the management mantra, which led to a steady stream of layoffs and firings.

The trouble for Rogers is that it only has two ways to earn revenue on the package – selling advertising and attracting new subscribers for its networks that will carry the games. It is possible the company could ask the Canadian Radio-television and Telecommunications Commission for permission to raise its cable fees but people in the industry do not believe the CRTC would agree.

So the heat is on Rogers' advertising sales staff and viewers can expect to see all of the best games outside of Saturday night on the Sportsnet and City networks in order to entice people to sign up.
Outdoor games, Rogers deal fuel surge in revenue for NHL clubs - The Globe and Mail