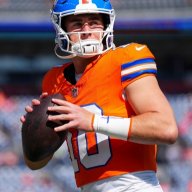 Archduke of Crosstown Busses
Joined

Apr 19, 2013
Location
Hoopla Cash

$ 1,684.55
Because it's the offseason and I'm bored. From 2011-2020, how would I rank 1st round QBs that have busted? Let's find out.

1. Winston - TB, 2015 draft
2. Griffin - WAS, 2012 draft
3. Bortles - JAX, 2014 draft
4. Mariota, TEN 2015 draft
5. Gabbert - JAX, 2011 draft
6. Rosen - AZ, 2018 draft
7. Weeden - CLE, 2012 draft
8. Manuel - BUF, 2013 draft
9. Ponder - MIN, 2011 draft
10. Lynch - DEN, 2016 draft
11. Locker - TEN, 2011 draft
12. Manziel - CLE, 2014 draft

Went from who I thought is best to worst. Winston had the longest chance to prove he isn't a bust, but I don't think he did so.

Griffin, Bortles, and Mariota all had playoff appearances, but didn't do much with them.

Rosen is the only one I've included from 2017 onward because most of those guys haven't yet had enough time to prove bust status. Tubisky was next closest, but I say give him one more year. Either way, Rosen is clearly a bust.

Weeden should never have been a first round pick. Way to old to be taken that early. Bad job, Cleveland.

EJ Manuel was the only 1st round QB from 2013 and he shouldn't have been a 1st round pick. Not a great year to draft a QB.

Ponder, Locker, and Gabbert were all drafted in the 1st round of 2011. Just way too many QB hungry teams in 2011 really led to these guys getting way overdrafted. But at least Gabbert cut out a niche for himself to be a clipboard holder for quite a while.

Paxton Lynch was unmotivated to make himself a good QB; flamed out really quickly.

And of course Johnny Football was Johnny Football. Bad job, Cleveland.