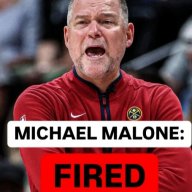 The Middle of Everywhere: NWI
Joined

Apr 18, 2013
Location
Hoopla Cash

$ 1,000.00
According to Woj the Nets are ready to move on and determined to find a trade partner.

I've got Reggie Jackson, Norm Powell, and picks.

KD has familiarity with Jackson and like Irving I believe is on an expiring contract. The Nets will be able to re-sign him at their price if they so desire.