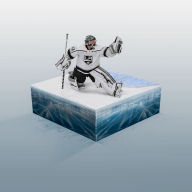 Joined

Jul 5, 2013
Location
Hoopla Cash

$ 1,000.00
Off topic I know but this guy is going to be a good player. Maybe not a full on All-Star but the kid reminds of the modern day Mike Richards. He plays with an edge and has a good motor to go with it.

I say modern day Mike Richards because he's not likely to drop the gloves like Richards did but he's got a lot of character.
He'll be eligible for the draft next season and I see him flying under the radar a bit. I'll be watching his progress.
Last edited: