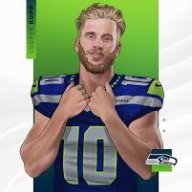 Joined

Oct 22, 2013
Location
Hoopla Cash

$ 930.43
Since it's Training Camp time. Preseason is a week or so out. Season Starts on October 17th...........

I'll leave this open for you guys so you guys can talk about games and after and such.

I won't try to troll you much but fore warning, You come at my team, Like the Seahawks in the NFL board, those be fightin' words

And if you got any questions about games, prospects etc. Don't be afraid to Mention me and i'll try to answer with the best of my ability.