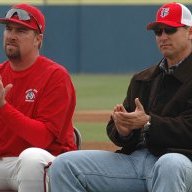 Joined

Aug 1, 2015
Location
Hoopla Cash

$ 1,000.00
Technically, the season is a 1/3 in the books for the Giants about halfway into today's game but thought I'd get a head start here.

Been thinking about the season thus far. They went 14-7 in April and have gone 15-17 since April 30th. So which record better suggests how this team will finish 2022? If you take the total winning percentage thus far, the team projects to finish 89-73. However, if they continue to play slightly under .500 the rest of the way, they could finish closer to a 80-82 record this year. So what does that mean for postseason contention?

We all know that the postseason has expanded, yet again. Now, there are 3 division winners, plus 3 Wild Card teams per league. Currently, the Giants hold the 3rd and final Wild Card spot in the NL. They are 5.5 games behind the Dodgers for the NL West, 3 games behind the Padres for the 1st WC spot and 2 games behind the Cardinals for the 2nd WC spot. The Braves sit 2 games behind the Giants and the Phillies, Pirates and Diamondbacks are all within 5 games of the Giants. So, for comparisons, how have these teams done in the same time frame the Giants have gone cold? Let's take a look (overall record, record since April 30th).
Dodgers 35-19, 22-12
Padres 33-22, 19-14
Giants 29-24, 15-17
Cardinals 32-23, 21-14
Braves 28-27, 18-15
Diamondbacks 26-30, 16-18
Phillies 25-29, 14-18
Pirates 24-28, 15-15

So, taking these numbers, and using the method that gave the worst of the two scenarios for the Giants, here is how the final standings could look like:
NL West - Dodgers 105-57
WC #1 - Cardinals 96-66
WC #2 - Padres 95-67
WC #3 - Braves 86-76
Giants 80-82
Pirates 79-83
Diamondbacks 76-86
Phillies 72-90

Now, obviously, this is far from a good way to accurately guess final standings but it does give an indicator how teams are currently heading. There are multiple factors that can change these directions. Players get hot, players go cold, players get injured.

There are not many guys who are on the IL right now: Steven Duggar has started rehab and maybe his defense alone could help win a game or two that would otherwise be lost, but his hitting needs to improve for him to see regular playing time. Brandon Belt should be ready to get activated soon but his hitting is the worst we've seen from him in a few years. Hopefully, LaMonte Wade is healthy by the end of the month and can hit like he did last year. Both Anthony DeSclafani and Matthew Boyd could be ready by July 1st. However, neither are a guarantee to upgrade the back of the rotation.

For the Giants, I think there are a few guys who could yet get hot: Duggar and Belt (above) are both candidates, based on past performance and, in Duggar's case, age. Darin Ruf has been up but mostly down. Maybe he gets an extended hot streak. Thairo Estrada's power hasn't showed up this year yet, maybe it will soon. Will Joey Bart finally put it all together and start to hit even close to like he did in the minor leagues? Maybe. Is DeSclafani really as bad as his 1st 3 starts of 2022? Probably not. I'm torn to add him here but there is a possibility that Jose Alvarez starts to look like the 2021 version. Ditto Jake McGee. I know that this may be biased but I really think Tyler Rogers will not end the season with an ERA north of 4.00 (let alone over 5.00) but I've been wrong before. Camilo Doval could be crazy good, maybe that kicks in this year. Logan Webb could make some more adjustments and look like his 2021 campaign.

Yet there are some candidates for leveling down their production: Joc Pederson has been crazy good with the bat the past few weeks but can be notoriously streaky. I doubt his season numbers will stay this good. Jason Vosler goes on here for the fact that he's hit well so far and will undoubtedly be back with the club. However, can he continue to hit well, especially if he continues the yo-yo from the bay to the capital? Is Luis Gonzalez this good? This numbers aren't great but I think Evan Longoria is more likely to get worse then better going forward. Time will tell. I have my doubts that Jakob Junis is this good but he sure is stabilizing the rotation for now. Dominic Leone has gotten away with a lot so far this year, that may catch up to him. Sam Long gives up too many walks and will need to work on that if he wants to continue his success with the big league club.

I think the room for better production probably outclasses the room for worse production so I think it is unlikely the Giants finish below .500 but we've got 109 games left to play. Hopefully, those 109 games go well approximately 60% of the time.