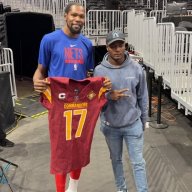 Joined

Jul 8, 2013
Location
Hoopla Cash

$ 500.00
If we are going to speak in absolutes with Griffin, who didn't request to be here....then logically you must also reason that Cousins always choked. He always did.
Only when he was surrounded with great talent, did he make the playoffs. Then his greed forced the organization to franchise him twice, costing us the opportunity to upgrade in other areas.
He always choked, was greedy, couldn't win the big games, sucked in the red zone. He went to the vikings, who are loaded offensively, and continued to suck. Yet, some fanboys here, blame his struggles on the vikings defense??? No, he sucks, when does passing for 400yds and 3TDs and still losing make you the GOAT??