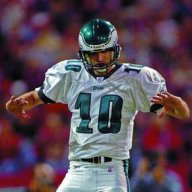 Joined

Jul 21, 2019
Location
Hoopla Cash

$ 590.91
What does that mean for Mahomes legacy and the GOAT argument we are watching him make over his career? What does that say for Andy Reid?


For both I think it makes a case for them to be in conversations of best ever but it does not push them to GOAT status. Andy Reid would for sure be in the top 5 HC conversation to end his career with 3 straight Super Bowl wins.



Now if they win 4 in a row when no other team has won 3 in a row? Then it gets interesting.


Then even if Mahomes only wins 1 other title late in his career he would have stake at the GOAT title having won 4 in a row early in his career.

Reid with 4 straight titles added onto already his lengthy resume then enters a debate with BB as the GOAT HC, especially if BB remains in the league and AFC during this 4 year run.