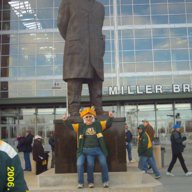 Joined

Jul 26, 2013
Location
Hoopla Cash

$ 1,081.61
I guess it is nice to get a little respect after having the most yards rushing and largest yards per carry number so far this year
And this without even having a running back ranked in the top 10
NFL's top 10 backfields: Browns, Packers rank among best​
Is there any rushing duo better than the Browns' Nick Chubb and Kareem Hunt? Nick Shook lists the NFL's top 10 backfields.
www.nfl.com
1. Cleveland Browns
- Nick Chubb, Kareem Hunt
Hunt and Chubb rank first and third in the NFL in rushing yards over expectation (RYOE) among those with 10-plus carries, per Next Gen Stats, with Hunt's +72 RYOE edging out San Francisco's Raheem Mostert (+71), and Chubb (+64) sitting just behind them. The combined efforts of Chubb and Hunt have the Browns atop the league in RYOE per attempt at +2.37 (compare this to Derrick Henry's league-leading mark of +1.05 last year).
2. Green Bay Packers
- Aaron Jones, Jamaal Williams
Jones carries this backfield, with 63 of the running back's 234 rushing yards coming as a result of RYOE. This production has vaulted the Packers, whose running backs have a league-high 387 combined rushing yards, to No. 2 in the NFL in RYOE per attempt at +2.02, per NGS.
They're doing so by taking advantage of defenses concerned with the arm of QB Aaron Rodgers. Jones is averaging the most yards per carry versus light boxes in the NFL (10.7), and he's racking up 5.7 yards per rush on runs outside the tackles, good for seventh best in the league (among those with at least 10 rushes).
If defenders think the answer is simply to set the edge and contain Jones, they're wrong. The running back is averaging an even better mark inside the tackles, gaining 8.3 yards per tote, the best in the NFL. His 75-yard touchdown against Detroit in Week 2 skews these numbers, but with just two weeks of data available, we won't discount its impact.
Williams isn't doing a bad job, either. The second back in Green Bay's offense has gained 25 RYOE on just 15 carries, good for a RYOE/ATT of +1.65, while rookie AJ Dillon has shown promise with +1.55 RYOE/ATT on 11 carries thus far.
3. San Francisco 49ers
- Tevin Coleman, Jerick McKinnon, Raheem Mostert
We're working with a smaller sample with McKinnon, who has just six carries through two weeks, skewing the numbers a bit. But he's made the most of his opportunities. Of McKinnon's 101 total yards, he was expected to gain just 37, per NGS. The other 64 came as a result of his own doing, giving him a RYOE/ATT of over 10, which we'd remove when ranking RYOE/ATT leaders because his carries total falls below 10. Still, that number illustrates how much McKinnon has exceeded expectations -- and provides hope to a team that will be operating without Mostert (MCL sprain) and Coleman (knee sprain) in the near term.
4. Tampa Bay Buccaneers
- Leonard Fournette, Ronald Jones
Fournette isn't alone in the Tampa Bay backfield. Jones also has a slightly positive RYOE/ATT mark of +0.33, helping lift the Buccaneers' backfield, which was dragged down by LeSean McCoy's -2.33 RYOE/ATT to produce a +1.28 RYOE/ATT as a team, the fourth-best mark in the league.
5. Baltimore Ravens -
J.K. Dobbins, Gus Edwards, Mark Ingram
We must always remind readers that Baltimore's backfield numbers do not include rushes by quarterback Lamar Jackson -- and still, this group is achieving. Baltimore owns the fifth-best RYOE/ATT mark (+0.82), powered by the efforts of the rookie Dobbins and Edwards, who both currently rank in the top 10 in RYOE with +34 and +28. Dobbins has been the most effective on a per-carry basis, posting a RYOE/ATT mark of +3.82 on just nine carries. Edwards' +2 RYOE/ATT mark (on 14 carries) isn't far behind, and their efforts have helped uplift the backfield from negative territory, where Ingram resides with a mark of -1.35 RYOE/ATT on 18 carries.
6. Pittsburgh Steelers
- James Conner, Benny Snell
Their combined efforts have produced the NFL's No. 6 backfield in terms of RYOE/ATT (+0.72), proving that no matter the individual runner, the Steelers can still find success on the ground.
7. Los Angeles Rams -
Malcolm Brown, Darrell Henderson
Once we move out of the top five, the advanced metric results tend to decrease fairly significantly. That's the case with the Rams' RYOE/ATT, which comes in at ninth in the NFL at +0.34. Henderson has produced much of the positive output, gaining 35 yards over expectation on just 15 carries. He gained all of the positive yards over expectation in the Rams' Week 2 win over the Eagles, with +40 RYOE, just shy of half of his total rushing yards in the game. Brown has been steadier if less explosive; while he has just 10 RYOE on the year, his numbers in both games (6 RYOE in Week 1 and 4 in Week 2) were nearly even, while Henderson finished Week 1 with -5 RYOE.
8. Kansas City Chiefs
- Clyde Edwards-Helaire, Darwin Thompson
In his NFL debut, Edwards-Helaire logged the best RYOE/ATT mark in the entire NFL in Week 1, and that performance has powered Kansas City's output through two weeks. The Chiefs have gained +0.35 RYOE/ATT, the eighth-best rate in the league, thanks to Edwards-Helaire's +38 RYOE in Week 1. He came back to Earth in Week 2, finishing with -14 RYOE as the Chiefs worked to erase their deficit against the Chargers, but his total is still above expectation (+24) after two contests.
9. Los Angeles Chargers
- Austin Ekeler, Joshua Kelley
Ekeler ranks 17th in the NFL in RYOE/ATT at +0.45, while the Chargers currently stand at 13th in the league in RYOE/ATT at +0.04. This rate is diminished by Los Angeles' blocking efforts, which have produced the league's No. 14 mark in expected yards per carry at 4.25.

10. Miami Dolphins
- Myles Gaskin, Matt Breida
While he hasn't been a notable name since his days in the Pac-12, Gaskin is starting to make folks pay attention to his play. The running back ranks 10th in the league in RYOE/ATT at +1.44, one spot ahead of James Conner (+0.88) and just behind Jamaal Williams (+1.65), while logging about as many carries. Gaskin is doing this by gaining yards between the tackles, averaging 5.2 yards per carry on such rushes, the fifth-best mark in the NFL.