I almost forgot to do these rankings this week
1. Air Force - Air Force may have picked up the best win the conference has had this year in taking down Colorado on the road. So far Air Force has their defensive aggression back and their offense is on a roll so far. Now they take on a Boise State team that has looked shaky.
2. Boise State - On paper Boise State appears to have rolled past Portland State with ease but there were definitely some struggles, especially on the offensive end. Boise State needs to play better with their matchup against their arch nemesis Air Force on Friday.
3. San Diego State - They have improved a little bit offensively, they easily dispatched New Mexico State to continue rolling. Conference play begins with a massive test at home against Utah State.
4. Utah State - They had a bye week to prepare for that San Diego State matchup. I'm still punishing them for choking away that game they should have won against Wake Forest. There is some good news, and it's that Wake Forest could possibly be the 2nd best team in the ACC. Whatever that means at this point
5. Hawaii - Hawaii's amazing start came crashing down in a blowout loss to Washington, but in their defense Petersen's teams have had a history of dismantling strong Hawaii teams, so perhaps this blowout was to be expected. Now they need to recover against Central Arkansas, a 3-0 FCS team who has already taken down Western Kentucky this year.
6. Wyoming - Wyoming is still undefeated yet they dropped significantly in these rankings, why is that?? They were absolutely horrible this past weekend. They had to struggle to survive against Idaho! Idaho has been awful at the FCS level even. Not a good performance, Wyoming need to be better this week against Tulsa.
7. Fresno State - I'm not entirely sure where to rank this team. On one hand they are the only winless team in the MWC, on the other their losses aren't as bad as some of the ones from the teams below. They better not lose this weekend to Sac State
8. Nevada - Unsure where to rank them, the Purdue win is nice but they really just played well for a quarter of that game and have been just absolutely terrible otherwise. Now they play UTEP, they really better not lose this one.
9. UNLV - They gave Northwestern a tough time for a half, I guess that's progress. The bottom of this league sucks. They have a bye week at least this week.
10. Colorado State - This play ended in Colorado State giving up a touchdown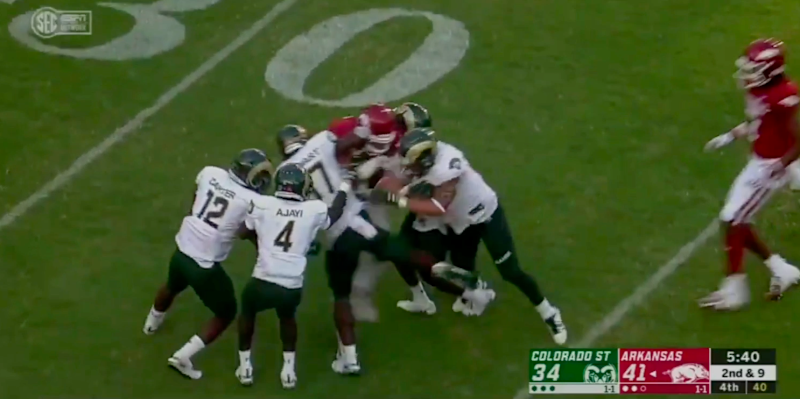 Toledo might hit 60
11. New Mexico - They were absolutely run over by Notre Dame. They go more on their level playing New Mexico State this weekend, if they lose this one I'm not sure who they can beat.
12. San Jose State - A rare weekend where San Jose State didn't lose, the reason why? They didn't play. Now they play against Arkansas. Hopefully they at least do a better job tackling than Colorado State did.