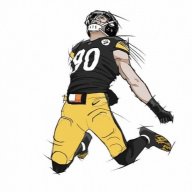 It's a Great Day for Hockey
Joined

Nov 17, 2015
Location
Hoopla Cash

$ 990.91
I just finished drafting for the Saints in Nos' mock draft. I'd like to know what Saints fans think of it (
@Brees#1
).



Round 1 Pick 7: DeForest Buckner - DE - Oregon
Explanation
: I went into the mock hoping to trade down, but there weren't any takers. I was planning on staying put and hoping Vernon Hargreaves fell to me. I decided to trade up with the 49ers and take Buckner. Bosa would've been a better fit, but the Ravens took him with the 6th pick so I went BPA. Buckner had 10.5 sacks this past season with the Oregon Ducks. He projects better at a 5 tech DE in a 3-4 Defense, but he has pass rush ability and good hands. He has stuff to work on to fit in NOLA's 4-3 defense, but talent on the defensive line was my 1st priority going in and I got that early.
Round 3 Pick 15: Xavien Howard - CB - Baylor

Explanation
: The trade with the 9ers forced me to wait until round 3 to pick again. I decided to address the secondary here. Howard has decent size and man coverage skills. Again, skill on defense should be the main priority this year for Sean Payton and the Saints front office. Howard has pretty good ball skills and would likely be either the 3rd CB or would push Delvin Breaux inside and be the CB2 opposite Keenan Lewis.
Round 4 Pick 7: Kenny Lawler - WR - California

Explanation
: With Colston retiring, I wanted to give Drew Brees another target to help open things up for Cooks. Lawler played with Jared Goff at Cal. He has one of the best pair of hands in this draft, but is a little skinny for the NFL. If he can put some weight on he could be a long time starter for the Saints.
Round 4 Pick 14: Maliek Collins - DT - Nebraska
Explanation
: With this pick I just wanted to add to the front line. The Seahawks and Rams have shown what line depth can do for a defense, and this is me trying to emulate that. This kid is a very athletic DT that could play a role similar to that of Aaron Donald with the Rams. He has pass rush ability and is capable of getting to the ball on all 3 downs.
Round 5 Pick 13: Jatavis Brown - LB - Akron
Explanation
: I first heard of this kid through one of Mike Mayock's positional rankings on NFL.com. I watched his tape and he blew me away. He's very similar to Deion Jones out of LSU. He's very fast and rangy and has a nose for the ball. In a season or two he could be an impact starter for this defense.
Round 6 Pick 32: Curt Maggitt - LB/DE - Tennessee
Explanation
: This is easily the most risky pick I made. He only played in one game last season before suffering from a hip injury. He also is currently dealing with a lawsuit for allegedly hitting a teammate. Outside of those two things, this kid is really fun to watch. He plays with great tenacity and energy. He can play either DE or OLB in a 4-3 scheme which bodes well for the Saints. He's a very good pass rusher and could prove to be a huge steal if he manages to get his affairs in order.
Round 7 Pick 16: Darrell Greene - G - San Diego State

Explanation
: The Saints' offense is in pretty good shape with Drew Brees at the helm, but adding to the offensive line is never a bad idea. I was hoping to get a Guard earlier in the draft but it never seemed like the right time up until this pick. Greene is big and strong and provides needed depth to the Saints' O-line.