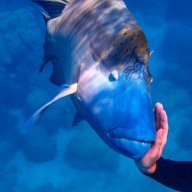 All Who Wander Are Not Lost
Moderator
Joined

Nov 30, 2018
Location
Hoopla Cash

$ 3,000.00
It was a hell of an effort between trying to arrange flights & getting valid covid tests but we made it through Dubai to the Maldives for a bit more than 2 weeks diving & snorkeling on the island. It was heaven to walk around without a mask most of the time.
A few pictures from our journey
Emperor Angelfish

Coral Beak Butterflyfish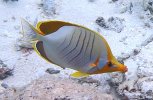 Sometimes an eel just doesn't WANT his picture taken & lets you know that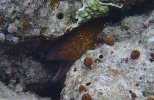 View from our island to another one.
A blacktip and a whitetip reef shark. We had sharks around us every time we went in the water. In the early morning & late afternoon, we'd go up to a sheltered area to watch the baby blacktip sharks swim around. The only time I got a little nervous was when one blacktip started circling me on a morning snorkel. No music so I was okay.