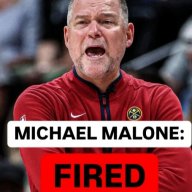 The Middle of Everywhere: NWI
Joined

Apr 18, 2013
Location
Hoopla Cash

$ 1,000.00
Does not give in to big names. This guy is on record as being the first official to ever eject LeBron James…

Note to kids… This level of extreme self-entitlement will get you a quick hook.

For every other player, it's a simple flagrant one. For Draymond who waves and salutes the Memphis crowd after the play, it's an ejection and rightfully so.