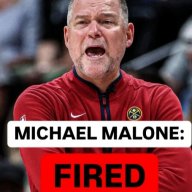 The Middle of Everywhere: NWI
Joined

Apr 18, 2013
Location
Hoopla Cash

$ 1,000.00
This is being posted much earlier than usual in large part because I'm not anticipating a busy offseason in the NBA (unless Utah were to hypothetically shop Donovan Mitchell)...
While some may scoff at my Gary Trent inclusion, having idolized Jerry Stackhouse I truly believe pure scorers are underappreciated in today's NBA.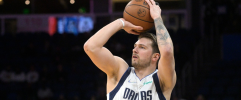 ​
(
Here's to hoping LeBron will be back in Cleveland the next time I make one these during the summer of 2023
.)
*
Last year's ranking in parenthesis
.
Giannis Antetokounmpo, F, Milwaukee Bucks (1)
LeBron James, F/G, Los Angeles Lakers (4)
Nikola Jokic, C, Denver Nuggets (2)
Joel Embiid, C, Philadelphia 76ers (8)
Kevin Durant, F, Brooklyn Nets (3)
Ja Morant, PG, Memphis Grizzlies (33)
Stephen Curry, PG, Golden State Warriors (7)
Luka Doncic, SG, Dallas Mavericks (9)
Kawhi Leonard, F, Los Angeles Clippers (5)
Trae Young, PG, Atlanta Hawks (11)
Jayson Tatum, PF, Boston Celtics (13)
Devin Booker, SG, Phoenix Suns (21)
DeMar DeRozan, SF, Chicago Bulls (NR)
James Harden, SG, Philadelphia 76ers (6)
Jimmy Butler, F/G, Miami Heat (18)
Damian Lillard, PG, Portland Trail Blazers (10)
Karl-Anthony Towns, C, Minnesota Timberwolves (22)
Paul George, F/G, Los Angeles Clippers (18)
Anthony Davis, C/F, Los Angeles Lakers (12)
Kyrie Irving, PG, Brooklyn Nets (20)
Donovan Mitchell, SG, Utah Jazz (16)
Chris Paul, PG, Phoenix Suns (17)
Bradley Beal, SG, Washington Wizards (19)
C.J. McCollum, SG, New Orleans Pelicans (37)
Jaylen Brown, SG, Boston Celtics (24)
Klay Thompson, F/G, Golden State Warriors (NR)
Khris Middleton, SF, Milwaukee Bucks (25)
Brandon Ingram, SF, New Orleans Pelicans (30)
Bam Adebayo, C, Miami Heat (34)
Dejounte Murray, PG, San Antonio Spurs (NR)
DeAndre Ayton, C, Phoenix Suns (42)
Zach LaVine, SG, Chicago Bulls (28)
Darius Garland, PG, Cleveland Cavaliers (NR)
Anthony Edwards, SG, Minnesota Timberwolves (NR)
Rudy Gobert, C, Utah Jazz (23)
Jrue Holiday, PG, Milwaukee Bucks (35)
Pascal Siakam, PF, Toronto Raptors (31)
Jamal Murray, PG, Denver Nuggets (32)
Fred VanVleet, PG, Toronto Raptors (49)
Tyler Herro, SG, Miami Heat (NR)
Last edited: