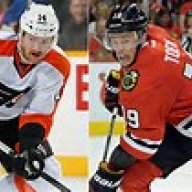 Joined

Jul 8, 2013
Location
Hoopla Cash

$ 1,000.00
I've been following the Tyson Barrie situation pretty closely as I've felt like there are many similarities to that of Gostisbehere. Barrie is an offense-first d-man who seems to be at his best when allowed to more-or-less run amok offensively and try to make plays. Obviously sometimes this leads to major defensive gaffs, however in his time in Colorado the good seemed to outweigh the bad by a decent margin. This has been the same case with Ghost at least in the years when he was playing well. His second season was marred by recovering from injury which hampered his speed, so he gets a pass for that one. The big question with him is what has happened the last two years? To look at Barrie, who struggled mightily under Babcock, the biggest issue was that he was asked to play a more defensively responsible game and tune down the think-offense-first mentality that had led to his previous success. Under Keefe, Barrie has again been turned loose and is again enjoying success akin to previous seasons. In watching Ghost, I see some of that same hesitancy to jump into the play like in years past, similar to what Barrie was experiencing earlier this season. Does the team just need to accept that he will never be a good defensive player and just let him loose offensively?


No. At least, not exactly.


Here's the problem. That high-powered offensive attack philosophy can work great during the regular season for a team that has the firepower to play that way. However, it almost always fails miserably in the playoffs. Going back to Ghost's amazing rookie season, he was a complete train wreck in the playoffs and got absolutely abused. Regardless of his limited success in Toronto, Babcock is a great coach. He knows the game and knows how to win. I believe he knew exactly what he was doing with Barrie, despite it not working out on the ice. He was looking ahead to the playoffs where he knew Barrie's gambler style would end up being a detriment. Toronto's biggest problem was a major disconnect between how Babcock wanted to play and the types of players Dubas was bringing in. Even if Toronto turns it around this season they're likely facing another early playoff exit.


So, what to do with Gostisbehere? Turn him loose and hopefully enjoy some regular season success at the expense of him being a serious liability in the playoffs? For a playoff starved fan base this probably sounds like a good option. Continue to try to make him into something he's not, a defensively responsible player, and curb what he does well in the hopes that at some point it just magically clicks? Sounds like a bad plan to me. Trade him now while his value is probably at an all-time low? Ugh.


How about this - turn him loose, hope his play improves and can build his trade value back up a bit and then move him ASAP? Sure as heck gets my vote as the only plausible option.