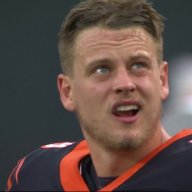 Joined

Sep 15, 2020
Location
Hoopla Cash

$ 950.00
It was downright cold this morning already in the low 30's. The house was at 61 degrees when I woke up, and I had to kick the bucket and turn the heat on. But that means it's a new season - the time for a bubbling pot of something delicious to simmer on the stovetop all day. Today it will be chilly, using some dried peppers and some leftover brisket. It's going to be so spicy my wife will give me an evil eye all week, but at least I'll be warm.

What I'm watching: The noon slate is ok. Clemson will probably murder Georgia Tech fairly quickly, and the other games are decidely ok. Probably look at the Kentucky Tennessee game - Kentucky in a spot where they need a win and the Vols may be lacking confidence after getting run over by Georgia. The Irish kick on at 2:30, and not much reason to flip away from them. Mike LEach gets a shot at TAMU and it would mostly be funny if he gets the win.

It all leads up to the main event, Bammer and Georgia, so I should probably try to stay sober so I don't pass out at 8:20 like usual.