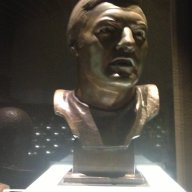 US ARMY retired /mod.
Supporting Member Level 3
Joined

Aug 7, 2011
Location
Hoopla Cash

$ 4,000.00
@dad

, I appreciate the heads up on Willis! I've been studying this guy since the mention that you gave me. I like his down field accuracy and ability to run, but he's relatively small (6-1 /215) and there's not a lot of him throwing into tight coverage, especially with respect to the mid-range stuff. I'll continue following, thanks again!
No problem my absolute pleasure