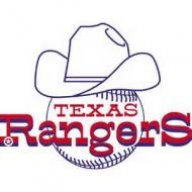 A Change In Course, There Is No More Blueprint
Joined

Jul 31, 2014
Location
Hoopla Cash

$ 1,000.00
Below is a series of questions that you can feel free to copy and paste with your answers. It is always fun to guess what will happen.

2021 Texas Rangers Season Predictions

Record:
Place:
Team ROY:
Team MVP

Team Leaders

Batting (Name + Number)
HR:
RBI:
BA:
SB:

Pitching (Name + Number)
W:
ERA:
K:
S:



Miscellaneous Questions

Who will be the starting first-baseman during the bulk of the second half of the season?

Who will play the most games in CF this year?

Of the young prospect, starting pitching candidates, which one will throw the most innings for the Rangers this year, and how many will he throw?


Which player starting the year in the minors will have the biggest impact on the team?


Which player will be the most pleasant surprise this season?


Which player will be the most disappointing surprise this season?

Which 2 or 3 minor leaguers, besides Huff and Jung will do the most this season, to put themselves into the conversation as being big contributors for the Rangers in 2022?

What other miscellaneous thoughts do you have about what you are expecting this season?